'Modern Country' is our second collection of country drum loops. With this loop pack we've focused more on the modern rock/pop crossover that is so popular in country music today. Tempos range from 92 to 94 bpm which is an ideal central tempo for time stretching to your desired tempo. The preview above demonstrates how live and punchy these drum loops sound in a mix with guitars and bass. Check out the free demo loops below.
This sample pack features 103 drum loops, we included straight out rock grooves and some slightly funky rhythms along with side-stick beats and some brush patterns. Country Music often uses lots of intricate drum fills and beat variations so we went totally overboard with the fills on this loop pack. You'll be spoilt for choice.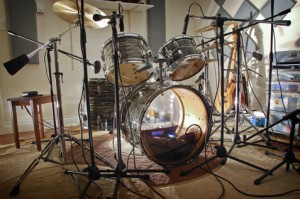 As with our other country drum loop sample pack 'Nashville Grooves' we used the same high end vintage Ludwig Ocean Pearl drum kit for this session with minimal room ambience for a tight, dry tone.
With grooves and fills that crossover into the country rock genre yet still retain a classy traditional tone, 'Modern Country' delivers the perfect mix every time.
Blending flawless drumming performances with a modern drum sound, it's easy to build your very own drum tracks so that you can concentrate on the other major aspects of your song writing and production.
We used the high end vintage Ludwig Ocean Pearl drum kit for this session with minimal room ambience for a tight dry tone.
The Vintage 1963 'Ludwig Ocean Pearl' Drum Set for these sessions featured the following:
12″ tom
13″ tom
14″ Supraphonic snare drum
16″ floor tom
22″ Kick
18″ Vintage Sabian ride
16″ Zildjian Avedis Medium Thin Crash
15″ Zildjian Vintage Crash
14″ Zildjian Vintage New-Beat hats
Here's what you get with 'Modern Country Drum Loops'
103 Loops in (Acidized) WAV file format.
103 Apple Loops for Garageband and Logic
103 Rex2 files for Reason
31 WAV files of the 'one shot' single hit drum samples from each part of the drum set.
Kit Samples Included – In addition to the loops we've also included 31 single hit drum samples of the drum set used during the recording session. This enables you to build your own virtual drum kit or enhance the loops because you'll have the exact same drum sound featured in the loops.
Please Note: The guitar and bass tracks you hear in the preview are purely for demonstration purposes. This product only contains drum loops.
If you need more traditional country drum loops check out 'Nashville Grooves' as these two loop packs were designed to work together with the same drum mix and processing.
Need Even More Drum Loops?
Consider hopping over to our sister site Platinumloops to check out their acoustic drums collection. They've been producing inspirational loops and samples for 20 years.