What are Apple Loops?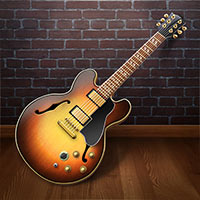 Apple Loops are commonly known as the standard audio file type for Apple's Garageband and Logic software applications. The reason for their popularity is that Apple Loops are formatted with extensive meta information which tells Garageband some valuable information such as:
Instrument Type
Genre
Time Signature
BPM
Key Reference
Copyright Information
The meta data associated with Apple Loops is still pretty basic and somewhat behind the times but the most useful features are the hit point markers strategically placed in the transients of the audio so that Garageband and Logic can easily adjust the tempo and key of the original audio.
This allows you to be creative with Apple Loops which is what music making is all about right? It's worth pointing out that Garageband and Logic can also handle WAV files as well.
[products ids="1291,1287,1269,1263,1255,1243,1235,1226,1216,1188,1165,1152,1142,1135,1129,1095,1067,1060,1019,1002,978,943,937,913,865,858,850,845,841,835,829,822″]
How Much Can I stretch the Key or Tempo?
Typically you'll be able to stretch most audio files by around 20-30 percent before you hear a noticeable drop in audio quality. A lot depends on the type of sound being stretched and its complexity. All DAW applications have their own time stretching algorithms and many people prefer the sound of some over others.
Sometimes overstretching a sample can be quite interesting when used as a special effect. Choosing a really 'grimey' time stretch algorithm on a drum loop and stretching it by 100% can decimate the sound so much that it actually sounds pretty cool.
 Why are Apple Loops so Popular?
The rise of Garageband has brought music making to the masses because it's so easy to use. In the old days you'd need a science degree to fully understand how to make music using a computer. Garageband changed all that by focusing on 'ease of use'.
Garageband has graduated from the realm of 'newbie DAW' to a fairly advanced software suite for making all kinds of music. Although a lot of people move on to more advanced DAW's like Ableton and Logic as their music making requirements require more power, Garageband is still a great starting point and with iphone and ipad support it's now also a very mobile option.
Free Apple Loops
Did you know that each and every one of our product pages offer free apple loops for you to download and test out in Garageband and Logic songs? That's right, we did say free. Simply navigate to any product detail page and you'll see a 'Download Demo Loops' button somewhere in the description. You'll need to be logged in to access the free downloads but registrations is totally free. You can also download a huge selection of our free demo loops over at Macloops which offers thousands for free loops for Garageband.