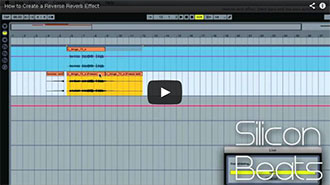 It's an oldie but a goodie. You've heard it thousands of times before but maybe never realized how the effect was created. You know the sound, where a piano or vocal slowly fades in from nowhere BEFORE it actually start playing. It's very effective and very easy.
In the old days producers would literally have to cut out a slice of magnetic recording tape and then flip it over in order to play the sound backwards. Imagine doing that by hand and getting it to play at exactly the right spot.
Luckily we now live in the digital age where such magnificent feats are easily accomplished. This video tutorial explains how this is done using Ableton but any DAW should be capable of the same thing.
Try this effect on piano, guitar, vocals and any other sound that has a strong, clear chord or note to which you can apply reverb and then reverse. The only tricky part is where to place the reversed reverb tail but that's a matter of taste.
Have fun and experiment.
For more tutorials please check out our Youtube Channel and subscribe if you like our work.
Please share the video and give us a thumbs up if you found it useful.